YDA Diabetes Conference 2023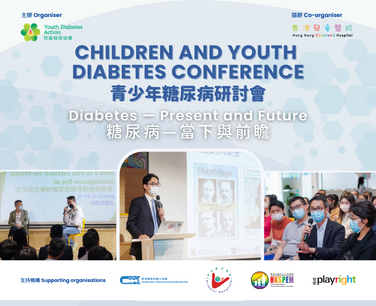 "Blue November" is here again💙
YDA invites you to attend our key event, YDA Diabetes Conference.
YDA has invited speakers with professional knowledge and rich experience.
A series of interactive seminars and workshops focusing on daily diabetes management in response to the theme "Diabetes – Present and Future"
Parents and children can both be learning about diabetes‼️
Come join us now.
Event details
Theme:  Diabetes – Present and Future
Date:   18 Nov 2023 (Sat)
Time:   13:30 – 16:45 (Registration starts at 13:00)
Venue:    Auditorium, Hong Kong Children's Hospital, 1 Shing Cheong Road, Kowloon Bay
Language:    Cantonese
Transportation:    Shuttle bus service will be provided from Telford Plaza, Kowloon Bay to HKCH
Registration:           https://forms.gle/FhVbV5QVpME6FaKn7
Seats are limited, grab yours ASAP!
If full, we will decide by lottery. Successful applicants will receive a confirmation email containing event details.
If you have any inquiries please call us on 25443263.