"Children's Diabetes Handbook" aims to provide comprehensive information and daily self-care methods to children with diabetes and their families.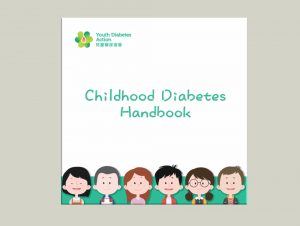 The content covers the causes and symptoms of Type 1 and Type 2 diabetes, treatment methods, diabetes technology, and precautions for taking care of diabetes at home and at school. Diet is critical for children with diabetes, so the handbook also includes information on how to count carbohydrates, the myths of a diabetic diet, and dietary management for when your child is sick. Children with diabetes and their families are provided with effective ways to manage diabetes through the handbook, so that children with diabetes can live a normal, healthy, happy and happy life.
The brochure will be distributed free of charge to YDA members and children newly diagnosed with diabetes and their families. If you want to receive a copy, please contact YDA or your pediatrician. Members of the public who wish to purchase can also contact us at 2544 3263 or email to support@yda.org.hk.
With special thanks to (in alphabetical order) :
Authors – Dr Elaine Kwan, Dr Joanna Tung, Dr Sammy Wong
Content advisors – Ms Denise Luk and Ms Sylvia Lam from the Registered Dietitians Hong Kong Dietitians Association, and Mr Gordon Cheung from the Hong Kong Nutrition Association