Eating out is a treat for a lot of families. Children with either types of diabetes do not have to give up that treat – they just have to take some extra precautions and make sure that they have chosen the right nutritious food in appropriate portions. No matter for which type of cuisine they crave, their tastes can still be accommodated.
Eating out can also be an opportunity to learn how to choose food wisely. The most important thing is to be sure of the nutritional value of the food and the amount of food intake.
Which restaurant should you choose?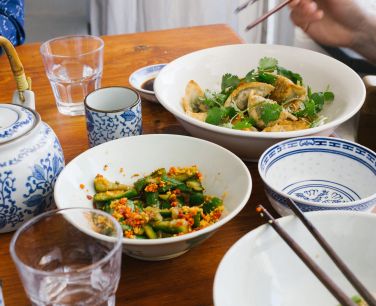 Your child can actually eat in all restaurants. Even fast food shops provide some healthy options these days. Whenever possible, you should try look for the nutrition information on the menu.
Restaurants that offer buffets definitely give an array of choices, but it can be difficult to standardize the contents of foods. It may also be more difficult to gauge reasonable portion sizes.
When choosing a restaurant, it is not necessary to find a place that specifically serves healthy food. As long as they offer food that caters to your child's needs, it will be fine. Try to keep a list of the places that make meal choices easy or your child enjoys most. In some cases, a chef may even be willing to make a meal that specially suits your child's needs. Actually many restaurants are willing to make special arrangements for people with dietary restrictions, like vegetarians or people with food allergies.
Another good resource is the scheme by the HK Department of Health as part of their "EatSmart@restaurant.hk" campaign. Participating restaurants will display the scheme's sticker and they will provide healthier options for their customers with more fruits or vegetables, as well as less oil, salt and sugar.
What should we order?
A good balance of proteins, fats and carbohydrates, these tips can help:
Find out how the food is prepared. If the menu itself is not clear, ask the waiter for more information
Make changes. To help get all the types of food your child needs, feel free to ask the waiter to substitute certain ingredients or side orders (for example, have salad instead of fries).
Choose foods that are baked, grilled, steamed or poached – instead of fried or breaded.
Avoid foods with sauces or gravy and ask for low-fat salad dressings on the side.
Control portion sizes. Encourage your child to eat part of the dish and take the rest home or share with your child when the portion is too big. You can be a role model by eating a smaller portion yourself.
Share the menu. Help your child choose from the menu and make sure you explain the process. Explain what you are looking for and why. Your child can then use these skills when eating out with others. Maintain a watchful eye as older children choose foods and portions on their own.
Teach your child about these tips so that they can also use them when they eat out at school or at friends' house. If your child really wants something truly unhealthy from the menu, explain that everybody has to watch what they eat.
If you'd like to learn about the nutrition of some of the most popular menu items in Hong Kong, you can consult the HK Government Centre for Food Safety website. It can help you make better food choices with your child.