Here are a few suggestions to keep in mind when we're eating away from home. Restaurant portions can be much larger than the average serving at home. So ask for half portions, share a main course with a friend, or even take half of our dish home. We can find more information by checking out the scheme recently launched by the HK Department of Health as part of their "EatSmart@restaurant.hk" campaign. Participating restaurants, displaying the scheme's sticker, provide healthier options with more fruits or vegetables and less oil, salt and sugar to their customers.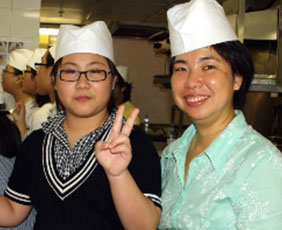 Here are some other restaurant survival tips:
Finish soup and eat our vegetables first so that our stomach is filled before we start eating meat and grains.
Instead of cream soup, which is high in fat, choose a healthy vegetable soup or broth.
Avoid fried rice or noodles and also try to avoid meat or grains with a lot of gravy or sauce with animal fats.
Use as few condiments as possible. Salad dressings, ketchup and chilli sauce can add sugar and fat as well as extra calories.
Avoid fatty sauces, such as cream sauce and meat gravy.
Avoid eating fatty meat, poultry skins and organs which are high in animal fats and cholesterol.
Ask for sugar-free drinks. That can save us a good amount of calories.
For more tips consult the HK Department of Health website
If we want to know more about the nutrition of some of the most popular menu items in Hong Kong, we can consult the HK government Centre for Food Safety website. It can help to make smarter choices for ourselves!