Raising money for YDA through healthy foods and drinks
YDA would like to say a thank you to Gavin Wong for raising $3,200 during our Blue November campaign. Gavin, owner of TYW Enterprises, believe in helping Hong Kong people eat and drink healthily without sacrificing on taste. Understanding the benefits of eating and drinking healthily when having a condition like diabetes, Gavin decided he wanted to raise money for YDA for World Diabetes Day 2019.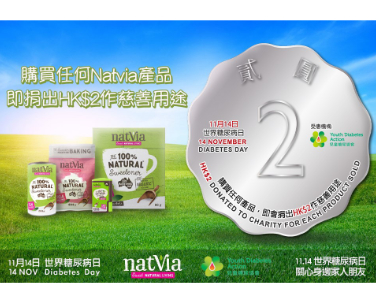 For all products sold in November, a $2 donation was made to YDA. A sticker was designed which looked like a $2 coin and attached it to all their products. Gavin said "We are privileged that with our products, we can help the next generation, especially those with diabetes to raise their quality of life."
For WDD 2020, Gavin wants to expand his plans by inviting cake stores and cafe customers to also join this campaign.
If you have an idea of how you can raise money for YDA, please get in touch with us to further discuss.
TYW Enterprises is a family owned business, which started five years ago importing/distributing healthy foods. They supply to major supermarkets, cafes, restaurants, hotels, health food stores, cake stores. Some of their core brands are suitable for diabetics and in the coming year, there are plans to launch more sugar-free (and tasty) products both from overseas as well as locally made to better serve customers. Website: www.tywenterprises.com