YDA20 Summer Sports Carnival was a great success
YDA20 Summer Sports Carnival was successfully held on 1st August at Shrewsbury International School Hong Kong, Tsueng Kwan O. More than 120 family members joined and participate in the event!
Coinciding with Tokyo Olympics 2020 and All For Sports Day 2021 on 1st August, YDA held the sports carnival, aimed to promote the importance of exercise and sports in maintaining a healthy lifestyle for all family members. YDA set up six different game booths including rope jumping, bean bags throwing, dribbling and racing competitions for participants. Prizes were given to the top 3 winners of every games. It was great to see all the children and parents enjoying sports together while they also played very hard to fight for the prize.
In addition to the game booths, YDA invited a variety of HK athletes for performance and sharing. There was spectacular roping jumping performance by championship rope jumping athlete, Sam Leung and HKRSF team. The team also taught our participants some rope jumping tricks. Thank you for the great show! Also thanks to sporting stars, former HK Taekwondo representative and movie star, Juju Chan, Elite Obstacle Racer, Nicky Inge and former HK swimming representative and Asian Games Medallist, Kent Cheung for sharing their experiences.
All the proceeds from YDA20 Summer Sports Carnival will go towards supporting children with diabetes. Thank you to everyone who came along to show their support to children living with diabetes, so that no child will be held back because of diabetes.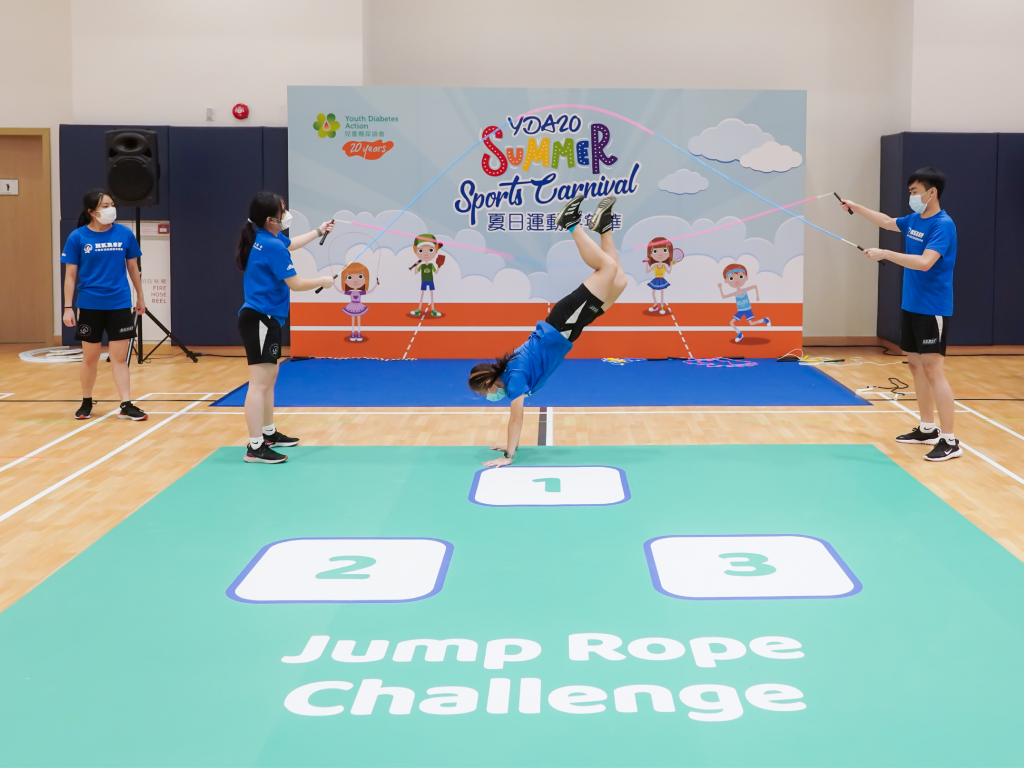 The performance by Hong Kong Rope Skipping Federation, Hong Kong was energetic and interesting.