Educate your child about diabetes so they understand how to monitor and treat their diabetes based on their age and maturity.
Stay positive and work closely with your child's school.
1. Working with the school
Arrange a time to go into school to meet the class teacher and other staff.
Provide a copy of your child's diabetes management and care plan.
Ensure your child's school is aware and make provisions for your child to manage their diabetes.
At school, your child should be able to do:

check their blood glucose levels
take insulin or other diabetes medicines
eat snacks as needed
eat lunch at a certain time, with plenty of time to finish
have easy access to water and time for toilet breaks
join physical activity and participate in school events like school trips
recognise and treat for low blood glucose (hypoglycaemia) episodes.
2. Preparing your child
While at school, ensure your child:
knows who to contact for help, such as a teacher, or school staff
knows how to handle lunchtime and other eating situations
have all the supplies and snacks needed to manage diabetes easily
speak up and tell others their needs
carry parent's emergency contact numbers.
Be sure to talk to your child and ask how things are going at school. Encourage your child to tell you about any issues related to diabetes management at school.
3. Gathering your diabetes school supplies
Continuous Glucose Monitor (CGM) and pump supplies
Glucose meter, lancing devices, lancets and blood glucose test strips
Insulin and syringes or insulin pen and needles
Low blood sugar supplies (glucose tabs, juice, fruit snacks etc.)
Container to hold used medical supplies
Download this useful 'Me and my diabetes' leaflet to share with your child's teacher/school staff: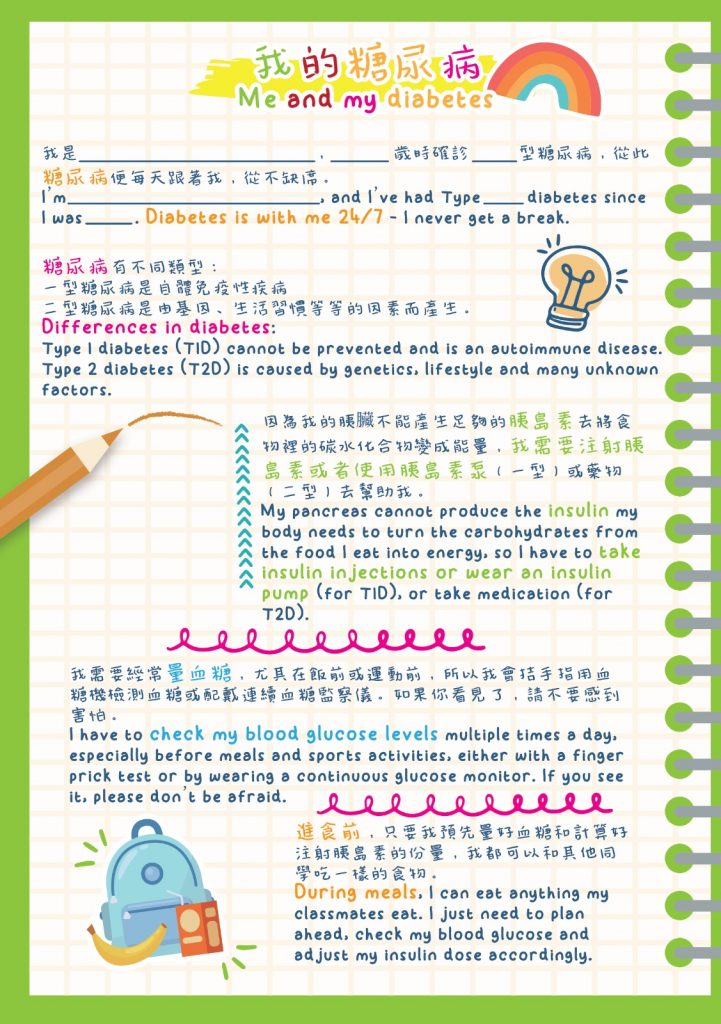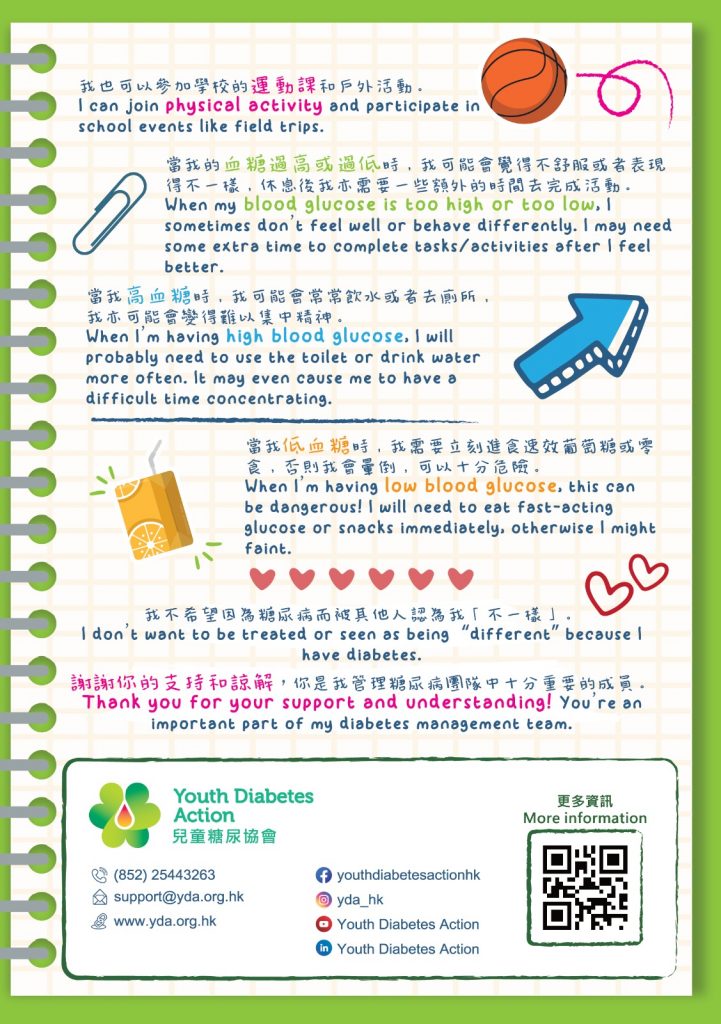 You can download this check list for future reference: Tips for Diabetes: Back to School
Find more information on school and diabetes here.
Feel free to contact YDA for more information on how to prepare your child for school and our resources, call 2544 3263 or email support@yda.org.hk